Axure for Enterprise
The UX Platform with Enterprise-Ready Security
Axure for Enterprise combines the benefits of Axure RP and Axure Cloud with your security requirements. Axure Cloud can be privately hosted on our servers or at your on-prem location so you can design, document, and collaborate while maintaining compliance.
Axure for Enterprise
Creating customer-winning digital products consistently and efficiently requires the combined strengths of business, design, and technology teams.
| | |
| --- | --- |
| Documentation and Specification | Create process flows, product teardowns, and visual specifications with Axure RP. |
| Functional Prototyping | Use Axure RP to build and test rich, functional prototypes before development begins. |
| Design Prototyping | Quickly create animated, screen-based prototypes from images, Adobe XD, Figma or Sketch artboards on Axure Cloud. |
| Co-authoring | Axure RP and Axure Cloud enable multiple people to work on the same project at the same time. |
| Shared Assets | With Axure RP, create and share libraries of interactive components, and import assets from Sketch, Figma, or Adobe XD. |
| Developer Handoff | Publish designs from RP, Figma, Adobe XD and Sketch to Axure Cloud for automatic redlines plus CSS and image export. |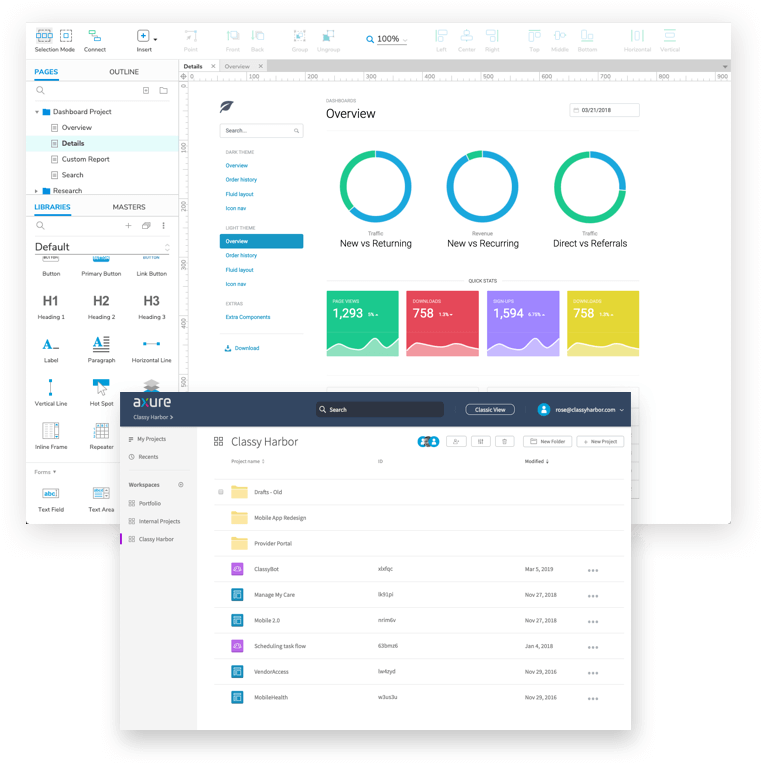 New
Axure Cloud for Business
Axure Cloud helps cross-functional teams work together and deliver better digital products. Publish user stories and customer journeys so everyone understands the goal. Host Axure RP prototypes for user testing to ensure the problem is solved. Share design assets from Sketch, Figma & Adobe XD for review and handoff. With Axure Cloud for Business, you can manage accounts and permissions on our servers or yours.
User Management
Single Sign On
Hosted or On-Premises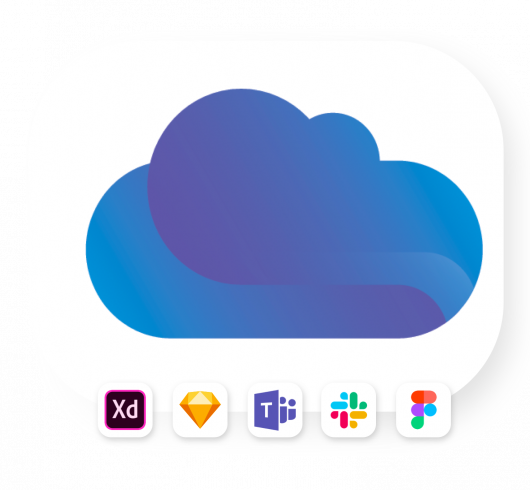 Building Security In
We implement security practices and tools to protect your information and data, starting from the system architecture through to how we operate. We strive to deliver products and services that are worthy of your trust and will continue to improve our systems and practices as security needs evolve.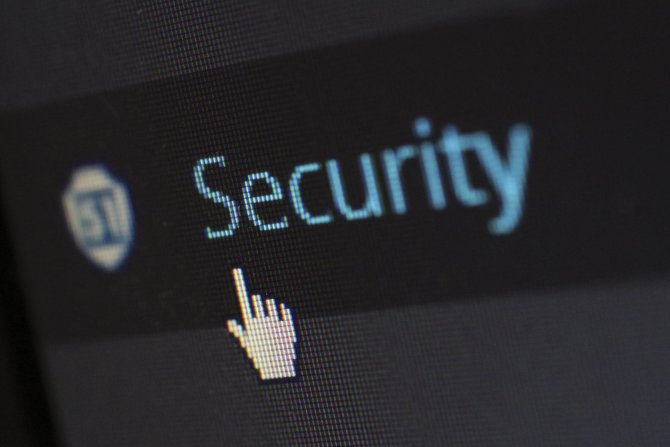 Get Started Now
Your ability to consistently and efficiently deliver winning digital products is more critical than ever to win customers and beat the competition. Our mission is to help you achieve digital mastery.
Diagramming and visual documentation
Powerful, functional prototyping
Automated design-to-developer handoff
All working together through Axure Cloud
Axure Enterprise FAQs
What is Perpetual vs. Subscription?
Axure RP 8 perpetual licenses allow you to use Axure RP 8.0 and all 8.x updates for as long as you like without additional fees.
Axure RP subscription licenses allow you to use the latest version of Axure RP while you are subscribed. Subscriptions are available for monthly and yearly terms.
How can I upgrade?
For perpetual licenses, you can upgrade from Pro to Team through the customer portal for $400.
For subscription licenses, you can upgrade to Team and Enterprise at any time. The remaining value of your subscription will be applied to the upgrade cost.
Can I use Axure RP on more than one computer?
Each license can be used by the named user on any number of computers including across PCs and Macs.
Can I use earlier software versions?
You can activate RP Pro 7 with RP Team 8 perpetual licenses and RP Standard 7 with RP Pro 8 licenses. Subscriptions only work with RP 8+.
Do you offer volume pricing?
Site licenses are available for purchases of 20+ perpetual licenses. Please contact sales@axure.com for more information.
Where is your End User License Agreement?
Axure RP is sold as a licensed product according to the terms and conditions of the EULA.