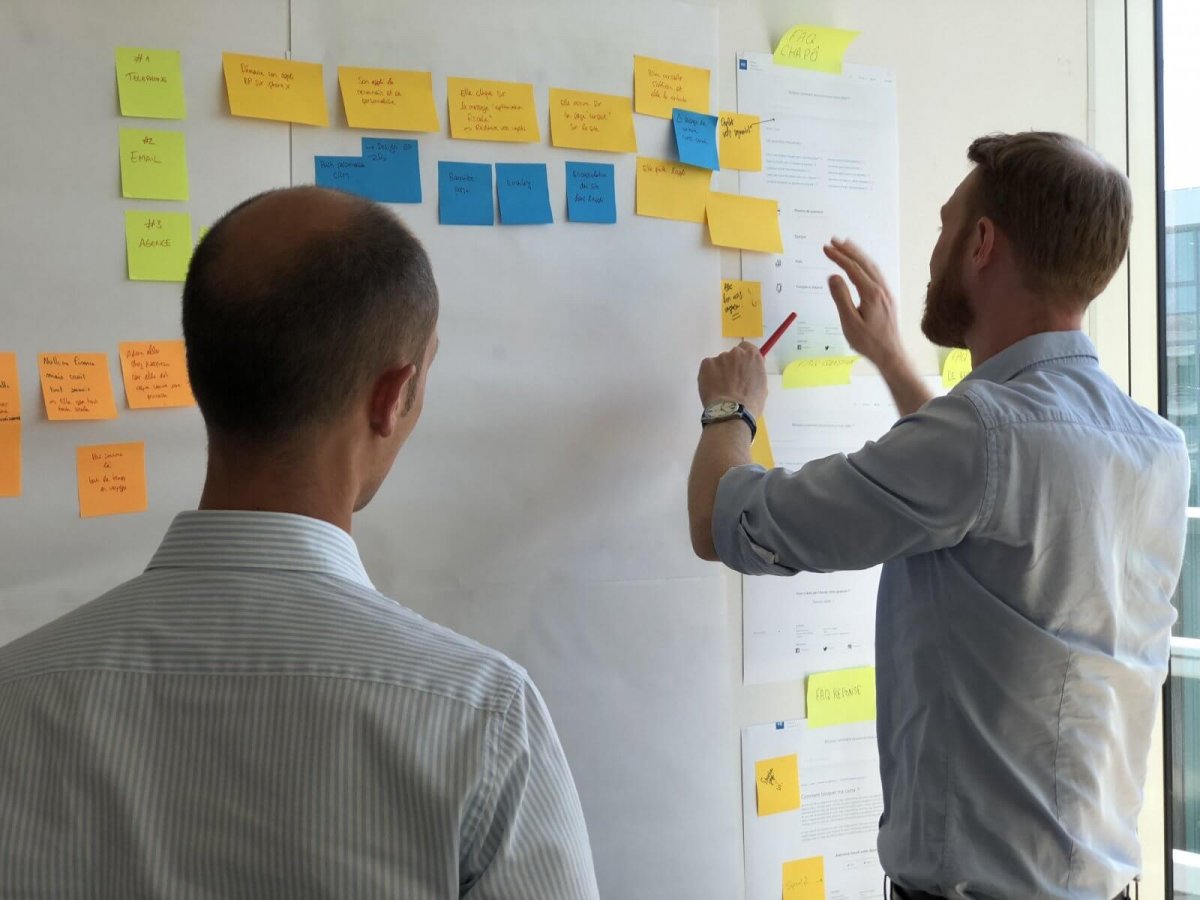 Designing Through Conversation with UX Firm Digital Telepathy
Can we talk?
Digital Telepathy has always done things differently. When you hire the San Diego-based design firm, you won't hear any pitches. Instead, you'll embark on a journey with a partner, one that involves a constant flow of conversation to propel the project forward. This journey is called Objective-Based Design. As part of this process, Digital Telepathy creates assets designed to spark discussions with its clients. Conversations are how Digital Telepathy collaborates with clients to build products, design experiences and solve business challenges.
The company's Art Director, Jessica Moon, and Senior UX Designer, Cody Iddings, walk us through their distinctive process and how they and others at the experience design firm use Axure to create those conversation pieces.
Design by Objective
Objective-Based Design is as much a philosophy as it is a process. Start with your objectives. Research to discover points of friction and identify areas of opportunity. Create a strategy to improve the experience and accomplish the business' primary objectives. Implement your ideas. Measure and reflect on the results. Iterate. Repeat.
Chuck Longanecker, Digital Telepathy Founder, describes the thinking this way: "The idea is to focus on your business objectives and work backwards to determine strategies that will accomplish them. Your objectives can relate to huge goals or a simple growth project. A key ingredient to this process is identifying friction. Friction hinders your customers' journey and it holds the secret to how you can design solutions to improve their experience."
The idea is to focus on your business objectives and work backwards to determine strategies that will accomplish them.
Sprinkled throughout this journey are a variety of assets created to move the dialogue along. The following are five examples that help illustrate this process.
Competitive Landscape Analysis
When: Research Phase
What: This tool presents clients with a spectrum of possibilities when exploring themes such as visual design, UX patterns, and brand positioning. This particular piece, created by Jessica using Axure RP's show/hide interactions, shows a range of UX applications arranged by their ease of use. The green arrow indicates where the client currently sits along the spectrum, while the blue arrow shows the project target for creating a simpler, more intuitive user interface. But it could also apply to other qualities such as tone (playful or serious), color (high value or low value), design aesthetic (flat or skeuomorphic), and so on. Clicking along the spectrum allows clients to see the range of possibilities.
Why: The tool invites hands-on exploration in a way that lets clients define their comfort zone by toggling on and off specific examples to focus conversation. If structured properly, the tool can generate the type of discussions that lead to better alignment between design team and client on aesthetic, as well as functional, choices.
"We found what really drives great conversations with our clients is having an interactive talking piece that we can maneuver into specific strategic areas of focus," Jessica said. "How do all potential competitors handle this? What about the niche tools?"
Content Wire
When: Strategy Phase
What: The Content Wire is usually a simple layout containing copy to represent a broad narrative. It's designed to initiate conversation about the story being told and the narrative points along the way, as well as what language is to be used on the site.
"We don't see these as wires or prototypes," Jessica said. "They're conversation facilitators."
Why: By having the content laid out in the wireframe, Jessica and her team are able to have a deeper conversation about the overall flow users will be going through, and then the particular pieces of content on a given page. Focusing the conversation around content can lead to a clearer understanding of the final product and how it will accomplish the objective among all team members.
Client Portal
When: Throughout the project
What: For big projects involving a large team, Jessica and Cody create an online portal using Axure RP that lets anyone on the project access all assets and deliverables as they are created and updated. The portals contain Axure Share links to key assets associated the project, including research documents, prototypes, style guides and other critical content. Rather than just a directory of shared files, however, the portal feels like an elegant microsite, creating a unified, branded experience for clients.
Why: As the project evolves, the deliverables are refined and more assets are added, including style guides, design documents, content wires and so on. The files are continually updated to reflect the most recent design decisions, keeping everyone in the loop and facilitating collaboration with team members and stakeholders, regardless of where they are located. This keys into two important values at Digital Telepathy: client empowerment and transparency.
"When our clients are able to access all of our work through a single place, it empowers them to engage with us anytime and from anywhere," said Cody. "It cultivates discussion by encouraging our clients to give us feedback when they see the things we are working on in real time."
Scrolling Transition
When: Strategy and Implementation Phases
What: Increasingly, design conversations occur around micro-interactions, which can be difficult to explain in words. In those situations, an interactive prototype can help crystallize a concept. The prototype above shows one such interaction
This prototype took two seconds to show, and we got it approved on the spot. I'm not sure we could have done that with static comps. This was a much more efficient process of communication…
"It created an 'ah-ha!' moment," Jessica said. "This prototype took two seconds to show, and we got it approved on the spot. I'm not sure we could have done that with static comps. This was a much more efficient process of communication, because it conveyed an experience that makes things more tangible."
The Why
When: Throughout the project and beyond
What: The Why explains the research, thought process, and rationale behind each major design decision in the project. It's often a keystone element in the Portal described above because it supports transparency and client empowerment. The Why becomes an especially important document when the project touches dozens, or even hundreds, of team members in far-flung offices.
"It's a great contextual guide to onboard team members with the various design thinking decisions in the project," Jessica explained. "This empowers anyone involved in the project to make good new decisions aligned with the design thinking set by the team."
Why: As the project gets passed along, the conversation has to continue through other stakeholders. The Why helps clients continue that conversation internally, even when Digital Telepathy is no longer involved. "When clients hit constraints, they're able to revisit the decisions and evolve them," Jessica explained.
The Upshot
Objective-Based Design is an approach anyone can use, not just designers. As a philosophy, it can be applied to large and small projects alike. As a process, it's fueled by continuous dialogue designed to identify key objectives, generate and prioritize solutions, implement them, assess the results and refine. To support this approach, Digital Telepathy has used Axure RP to create "conversation starters."
The prototypes we build are used in conjunction with client meetings. We use them in those meetings to help clients make decisions.
"The prototypes we build are used in conjunction with client meetings," Cody noted. "We use them in those meetings to help clients make decisions. In the end, we want to use the tool that lets us quickly communicate and rapidly iterate. Axure gives us the ability to have that collaboration time, rather than having to spend it pitching."
Tips for Getting Started with Objective-Based Design
Cody and Jessica share the following advice for those who interested in trying out Objective-Based Design:
Create deliverables that help spark conversations focused on their impact on objectives, rather than just about their aesthetic value. This generates more engagement and results in better feedback, and more evolved designs, Cody said.
Organize, share and update deliverables in one central online location using platforms such as Dropbox or Axure Share. This fosters transparency, as well as provide all team members with up-to-the-minute assets for timely conversations, said Jessica.
Think outside of the box. Rather than seeing wireframes and prototypes as deliverables or presentation material, use them as building blocks for conversation pieces, Jessica advised.
"A designer named Daniel Mall recently said that all deliverables should lead to conversation," said Cody. "That statement really changed the way I work."
If you'd like to learn more about implementing Objective-Based Design, you can read this step-by-step description of the process. You can also check out how Digital Telepathy applies this process throughout its work with clients.