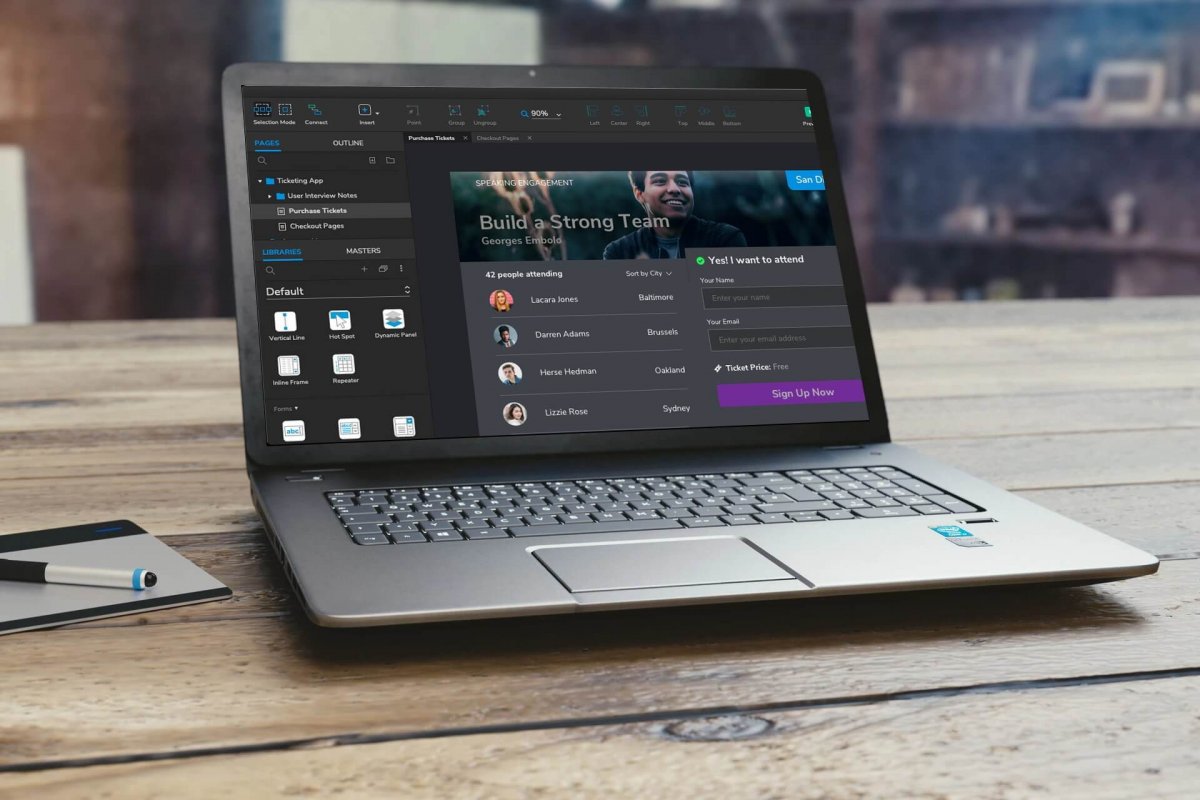 Welcome to the New Axure
Now more than ever, shipping software products that win customers requires the combined strengths of business, design, and technology professionals. Keeping everyone moving together toward a shared goal, however, is a struggle that too many projects face. This is why we're so excited to introduce the new Axure platform today. The new Axure RP 9 and Axure Cloud bring together diagramming and visual documentation, UX design and prototyping, visual design and import, and developer handoff onto a single platform.
Axure RP 9
After an extended beta and tons of feedback from customers, Axure RP 9 is officially available for download! For information about upgrading from RP 8 or earlier, visit www.axure.com/upgrade. You can read the full list of what's new at www.axure.com/new-in-9, but here's a breakdown of some of the biggest changes to get you started:
Navigating the new UI is faster: it's been simplified, it's more customizable, and it includes a dark mode so that you can work the way you want. The optimizations extend into the browser as well with a condensed, reorganized, and more performant prototype player.

Interactions are now edited inline right in the Interactions pane, and the event and action lists can be quickly filtered via a search field. (The Interaction Editor dialog is still there when you need it — just click the window icon at the bottom-right of the Interactions pane.)

You have more control than ever over the visual design of your prototypes. In addition to a bevy of new styling options — including image color correction, radial gradients, and expanded typography controls — you can import assets directly from Sketch with the Sketch-to-Axure plugin.

Quickly create mobile prototypes using device presets or your own custom page dimensions. Mobile prototypes emulate mobile device scrolling and touch in the web browser.

It's easier and faster to add and lay out widgets. Select from the widgets in the Libraries pane as always, or draw widgets on the fly with the options in the new Insert menu. Dynamic distance guides show you exactly where to put things, and the new smooth-zoom canvas makes navigating your designs a breeze.
Axure Cloud
Axure Share has been rebuilt from the ground up, with a new UI, a speedy new backend, and a suite of brand new features aimed at facilitating collaboration between product managers, UX professionals, visual designers, and developers. We're calling this new incarnation Axure Cloud, and you can get started at www.axure.cloud.
RP and Artboard Projects Side by Side
Just like always, you can upload and share Axure RP projects and widget libraries, comment on designs, and co-author prototypes with Team Projects. With the new Axure Cloud, you can now also host, share, and comment on artboards from Sketch and other image assets.
To publish from Sketch to Axure Cloud, use the new Axure Cloud desktop app and the Sketch-to-Axure plugin.
Build Prototypes in the Browser
Quickly build prototypes from Sketch and image assets right in your browser. The new Build feature enables you to connect image files and Sketch artboards together with animated screen-to-screen interactions, all with easy-to-use hotspots.
Inspect Your Designs
Handing off your designs is a snap with the new Inspect feature, which allows you and your team to extract style and layout information from the elements in your Axure RP and Sketch artboard projects. Hover over an element to see redlines, and click it to view style information. You can quickly copy any of the element's CSS or its text content, and you can download image assets.
The Axure Cloud Desktop App
Get all the benefits of Axure Cloud with the speed and convenience of a dedicated desktop application. The Axure Cloud desktop app includes all the features and functionality of the web app, and you can use it with both Axure Cloud and Axure Cloud for Business.
Axure Cloud for Business — On Your Servers or Ours
For teams that require greater security and user management, Axure Cloud for Business is the way to go. Get a private instance of Axure Cloud with your own domain on our servers, or install your own Axure Cloud server on premises behind your company's firewall. You can also configure your team's user accounts to work with your existing single sign-on service.
We sincerely hope that Axure RP 9 and Axure Cloud help your teams work better together to deliver amazing software products. Let us know what you think at support@axure.com.
Welcome to the new Axure. We can't wait to see what you'll create!