Best User Testing Platforms for Your Axure RP Prototypes
After building high-fidelity prototypes, user testing is a key next step, and capturing the best information is important. With Axure RP, you can prototype and test like it's the real thing and gather important feedback and data before moving on to development. To make the testing process as seamless as possible, here are some user testing tools that integrate well:
1. New! Maze
Maze is a user testing tool that allows you to validate usability across your prototypes with real users before you build and invest valuable resources. With Maze's integration with Axure, testing your Axure RP prototypes is a breeze. 
All you have to do is install the Maze tracking code as a plugin in your Axure project and then copy the prototype's share link that you'll then import into Maze. Check out their help guide for detailed steps on how to test your RP prototypes with Maze.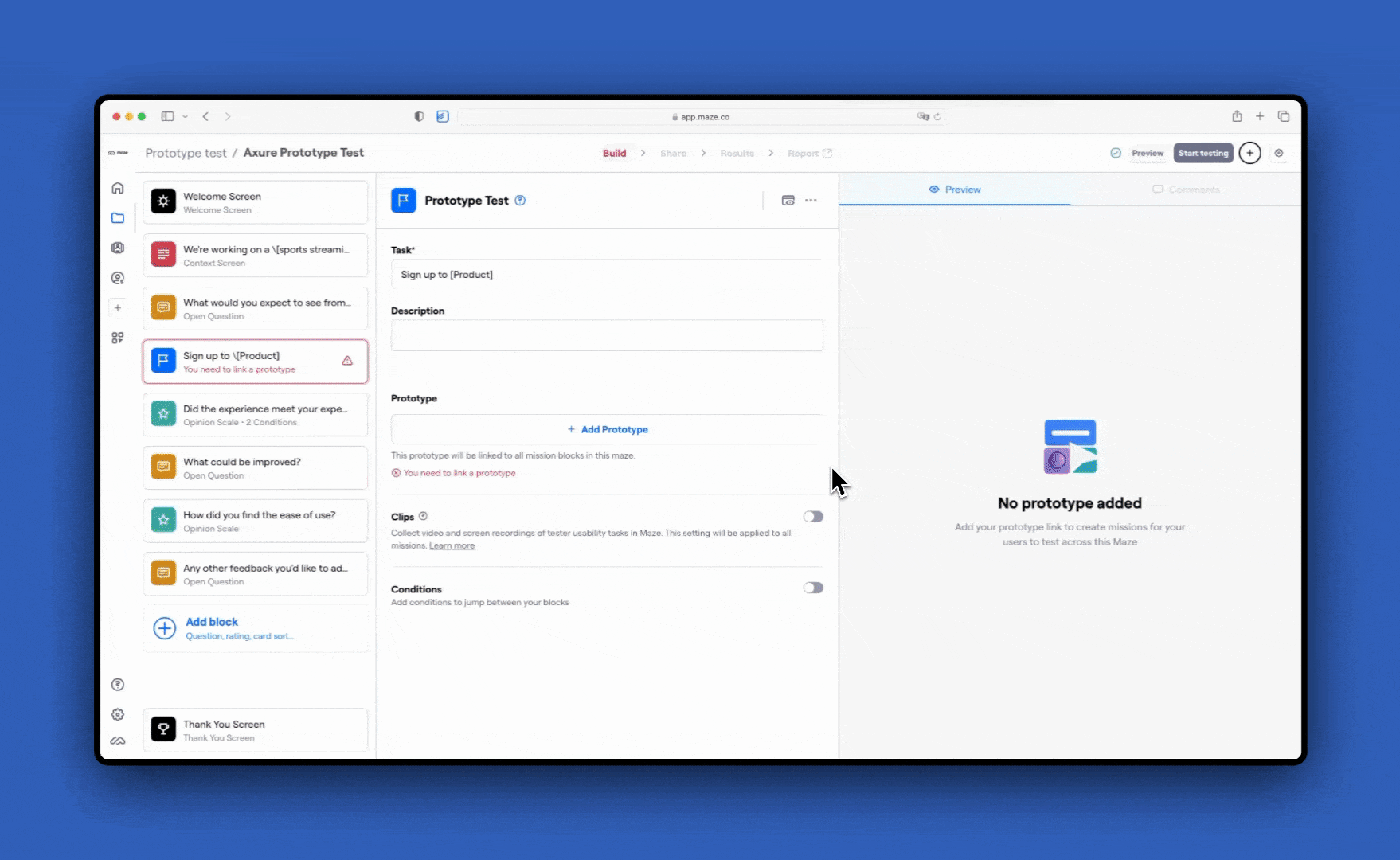 2. UXTweak
UXTweak is another testing solution that can help you at any stage of your project design. With many different testing capabilities and features like prototype & website testing, preference tests, tree testing, and session recordings, you'll be able to easily gather valuable data. To start testing your Axure RP prototypes with UXTweak, check out their instructional guide here.
3. Userlytics
Userlytics allows you to conduct remote user testing with participants from around the world. You can create tasks, surveys, and questionnaires to gather feedback. It also offers video recording, screen sharing, and eye-tracking analysis.
Testing Axure RP prototypes with Userlytics is easy. To do so, simply create a case study on your Userlytics dashboard and add your Axure RP prototype's share link. Check out this guide for more details.
4. Hotjar
Hotjar is a product experience insights tool that gives you behavior analytics and feedback data to help you better understand your customers. With session recordings, heatmaps, and analytic tracking, Hotjar can help UX and product teams identify pain points and optimizations when user testing.
To use Hotjar with your Axure RP prototypes, you can add a tracking code to your published prototype in the plugins tab in Axure Cloud. You can also find more testing options and resources here.
5. UserTesting
UserTesting is one of the most popular user testing platforms. It offers a large panel of testers who can provide feedback on your website or mobile app. You can create tasks and scenarios for the testers to complete while recording their screen and voice. To test your Axure RP prototypes with UserTesting, all you need is to copy your Axure prototype's share link and paste the URL as the starting URL in the Starting Instructions. You can also read their instructions here.
6. Userbrain
Userbrain is a cloud-based solution that will help you streamline user testing operations to gain insights into the performance of your websites or app. With Userbrain, you'll be able to see what's working for your product — and what's not. Testing your Axure RP prototypes in Userbrain is easy, and takes just a few minutes to set up. For a detailed guide on how to do so, check out their instructional guide here.
7. UserZoom
UserZoom is a comprehensive user research and testing platform that offers a wide range of tools and capabilities. It provides features like remote unmoderated testing, moderated sessions, card sorting, surveys, and more. UserZoom also includes advanced analytics and reporting capabilities. To test your Axure RP prototypes in UserZoom, all you need is to publish your prototype, copy the share link, and paste it into the starting URL field in UserZoom.
Overall, user testing is a key part of the UX design and prototyping process. We hope this guide helps you find the right user-testing solution for you and your team. As always, if you need help or want to submit feedback, contact us at support@axure.com. Happy Prototyping!