What's New in Axure RP & Axure Cloud – August 2023
Hi there! The Axure team is continuously working to roll out new features and updates. From new connector updates and repeater improvements to Axure Cloud security enhancements, the latest updates have something for everyone. You can always view all of the release notes on the release history page, but here's a highlight of some new and exciting updates.
Axure RP
We recently released some great updates to connectors, making it easier than ever to build flowcharts and user journey maps.
Now you can add a new connector and matching shape with a single click on an existing connector point

Use

[Cmd]/[Ctrl] + [Opt]

/

[Alt] + [Shift] + [Arrow

] to quickly add a connector and shape to a selected widget




New ability to select the next shape from the shape selector dialog when you draw a connector from a connector point and don't connect it to another shape or widget on the canvas
To learn more about these updates, check out the blog post about the release.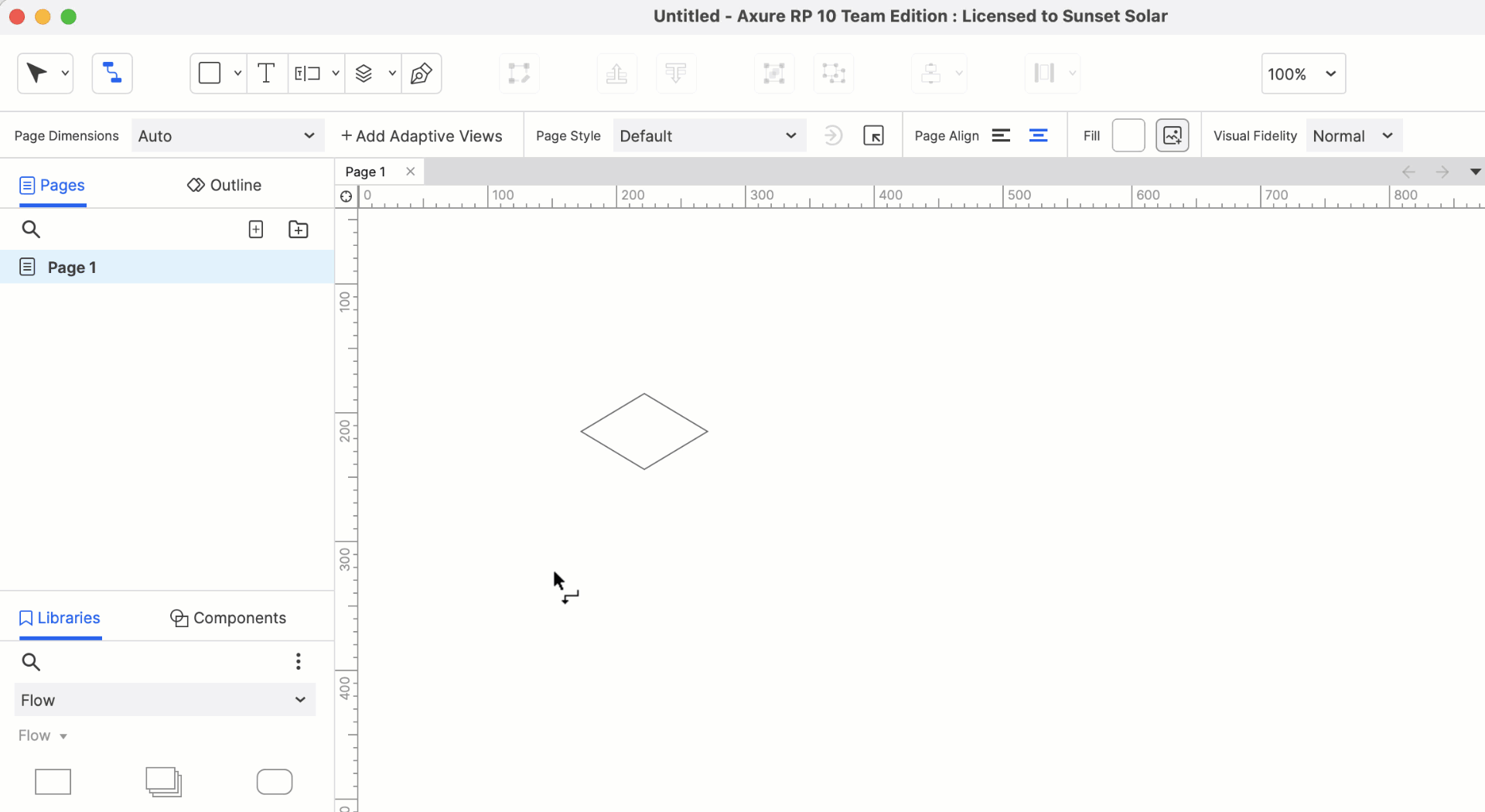 We've also released exciting new updates to repeaters recently, such as:
You can now import multiple images into the dataset at once when selecting a column or multiple cells, right-clicking, and selecting "Import images




from the context menu




You can also paste multiple images or text that you have copied to your clipboard into multiple cells at once



Use the new [Cmd]/[Ctrl] + [A] keyboard shortcut to easily select all cells in the dataset.

You can read the full release notes for the repeater updates from build 10.0.0.3897 on the release history page. You can also check out other blog articles to learn more about using repeaters, such as how to import CSV files for more data-driven prototyping, or how to use repeaters to build a realistic shopping cart.
In addition to the connector and repeater updates, there are more updates in other areas of Axure RP. Some notable mentions include:
Publishing a project with an access code will show updated public share links with the hashed access code embedded in the URL




You can now easily pan the canvas around using the

mouse wheel click + drag

shortcut




Newly added ability to rearrange targets within an action in the Interactions pane, allowing you to conveniently change the order of each target if needed




Added new button to select widgets that are targeted by an interaction so that you don't have to search for them in the Interactions pane

Added new [`]

single key shortcut

to easily toggle between selection modes

Axure Cloud
When publishing and sharing prototypes, protecting prototypes with an access code is a useful tool. However, protecting prototypes doesn't have to come at the cost of convenience.
With one of the latest updates, prototype URLs now embed hashed access codes for protected projects generated from RP 10 builds 3898 and above.

This means that if you share the prototype URL with the hashed access code (which you can copy directly from Axure RP or the project overview page in Axure Cloud), then the viewer will not have to manually enter the access code.

Additionally, users who have an Axure Cloud account now have the option to log in to their account when viewing a project with access code.
Inviting teammates to workspaces, is now an even more seamless process. New in the most recent updates:
Workspace invitations will now automatically be accepted from users with matching company email domains, making it even more fast and efficient to add teammates to new workspaces.
In addition to the more streamlined invitation process, viewing workspace updates is quicker than ever too:
Workspace pages will now receive real-time updates whenever changes are made to project and workspace settings, without requiring you to refresh the page. These updates include seeing when a prototype has been

published

, renamed, deleted, or had its access code changed, just to name a few.
Axure Cloud for Business & On-Premises
With Axure Cloud for Business, managing user permissions is a top priority. Some of the recent updates to make that process even smoother include:
Divided Axure Cloud for Business

user permissions

into

System Role

and

Axure RP Role

to offer more flexibility and control of users' roles.

It is now easier to assign seats from the Manage Accounts page, and easier to see when someone is assigned a seat or validated as an RP Enterprise user
Some additional updates to Axure Cloud for Business include:
Adding new accounts

on Axure Cloud for Business will add users in a publishing trial. During a publishing trial, users can publish projects without requiring an Axure RP Enterprise subscription or an Axure Cloud for Business seat.

Manage Accounts page has been updated to show users with a publishing trial and users who are limited from publishing

Just like with public Cloud, workspace invitations will now automatically be accepted from users within the same Axure Cloud for Business instance

Continuous security improvements
These updates make workflows in Axure RP and Axure Cloud even more seamless and enjoyable. Don't forget that you can view these update notes and many more at axure.com/release-history. You can also sign up for our newsletter here to receive the latest updates, Axure tips & tricks, and more.
As always, if you need any help or want to submit feedback, you can contact us at support@axure.com. Happy Prototyping!